"Committed to the Sacred Task of Rural Development and Empowerment"
MTRDS is a non-profit developmental voluntary organization founded by Father Julian Policetti working with grass root rural poor people especially with women, farmers, and youth for their integrated sustainable development. The following are the aims and objectives of the organization:
*To promote developmental activities which will have an impact on reducing poverty through replication of successful concepts, influencing public policies, and strengthening the existing resources for the betterment of rural poor.
*To provide support for the rural people and the needy by ensuring active participation of governmental and civil societies programs.
*To work for holistic development through training, education, active participation, and for micro enterprise development.
About Us "Who We Are"
Core Values
Respect – We affirm the dignity, potential, and contribution of participants, donors, partners and staff.
Integrity – We are honest and accountable for what we do and say.
Commitment – We work together to serve the rural community.
Excellence – We strive towards the highest levels of learning and performance.
Vision:
Our vision is to create a society (rural villages) where an individual(s) has equal opportunities, rights, and freedom from all sorts of fear. That every person may enjoy equal social status in the society so that they may achieve sustainable development.
Mission:
Our mission is to be the leading capability building organization providing excellence driven services to the deserving rural population.
Awards

Mother Teresa Rural development Society Received Best NGO Facilitation Award, 2014
What We Do.
Food And Nutrition Security
.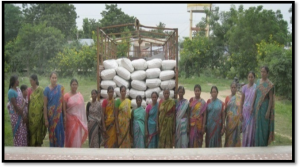 MTRDS is promoting food and nutrition security by establishing co-operative stores by which the clusters committees are assured to provide food and nutrition to the members. The women's' cooperatives were encouraged to undertake kitchen gardens where they can produce vegetables, fruits etc for healthy food. There are a few clusters who are developing nurseries where they grow leaf vegetables. Leaf vegetables contain more nutrients and  increase nutrition intake in the human body.
MTRDS distributes medicinal plants to the members to grow in their kitchen gardens. The medicinal plants can then be used when there is a need.
In order to ensure food security throughout the year they buy food grain when it is available at the lowest price. the grain is stored in the community storage facilities  and then supplied to the members as needed. They opened a supermarket for members so that they may buy quality goods at affordable price at door steps. In this way MTRDS assures food and nutrition security in our target areas.