The Effects of Covid- 19
Almost every Nation, community, Organisation and every household is reeling from its impacts on health, the economy and society. As this Pandemic is unprecedented in scale and need. MTRDS identified weakest and poorest people in crowded slums and informal settlement or camps make a fertile ground for the disease. All of them are hardly aware of the dangers for disease and solutions available to fight against it. Safai Karma Charis / sanitation workers are at highest risk of getting infected, as they are indulged in all sorts of ground-level works.
We are acutely aware of our role and responsibility in continuing to meet the needs of people who rely on MTRDS. MTRDS staff attended meeting in collectorate office Minister. Shri. G. Jagadishwar Reddy, District Collector Shri. Prashanth Jeevan Patil. IAS, Shri. A. Venkata Ranganatha, Superintendent of Police. Attended on 30th, March,2020. Awareness was given by the government officials to take safety measures and precautions to prevent Coronavirus and addressed the sufferings of the Homeless, Marginalised poor people and to feed those who are in need. In this regard MTRDS given COVID Relief donation cheque an amount of Euro 1950. Rs.1,50,000/- in the favour of District Collector Shri. Prashanth Jeevan Patil. IAS. For helping 1,500 people in and around Nalgonda district and also donated Euro 1300, Rs.100000/- to the PM Relief to help the poor.
Since the Covid-19 was diagnosed in TELANGANA state, MTRDS Started making masks with our Tailoring units during this move not only helped in protecting others, but has also provided livelihood for the marginalised. MTRDS analysed the deep critical threat from this Pandemic that impact on food crisis to Elderly people locally living in "Adharana senior Citizen Welfare Society" in Narketpally. MTRDS have supported 17 senior citizens with Primary sanitation such as Hand wash soap, washable Masks, Rice, Dal (Pulses) and also helped Hand wash soaps, washable Masks, Rice, Dal (Pulses) to 15 orphan children who are Physically and mentally handicapped living in "AKSHARA ORPHAN HOME FOR PHYSICALLY & MENTALLY HANDICAPPED REHABILITATION CENTRE" in Narketpally.
MTRDS cultivated Millets to resilience against climate change and make nutritious food in eradication of mal-nutrition. During the time of Nations shutdown Sanitization workers are fighting relentlessly despite of being exposed to coronavirus. Scavengers are unsung hero's yesterday but today they are recognised as the "CORONO WARRIORS". For their tremendous services like clearing the household waste and clean areas though indulge in risk of infection. In time of hardships scavengers are very marginalised people they need high nutritious and immune boosting food to fight against the virus. MTRDS supported to 45 Gram Panchayath workers by distributing BROWNTOP & FOXTAIL millets and Protective Masks and hand wash soaps, in the presence of Shri. Dudimetla. Sravanthi village Sarpanch in Narketpally.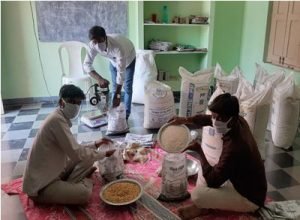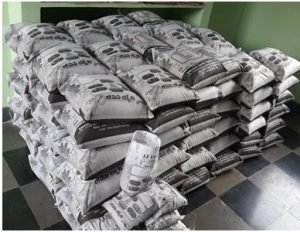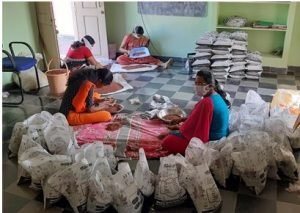 MTRDS supported food items to Daily wage earners and migrant labourers on the roads, had no work, without income and almost no savings to buy food items, crisis putting an addition stress on them. A group of Nomads have had Restrictions on travelling, they are very desperate for need and help. Covid19 endured hard times to find one-time meal in a day especially for elderly people, infants and nursing mothers. MTRDS supported to the families in Narketpally, Gangorigudem-, Chinna Narayanapuram, Nemmani, Raasi factory colony, A.P. Lingotum, Yarasanigudem, Mandra, Gopulayapalli etc… COVID-19 Relief given to a total of 324 families. MTRDS supported with necessary items such as Masks given as per the size of the family, Soaps, Rice, Brown top millets, Fos tail millets, Dal (Pulses). Provision of food items saved them being at "STAY HOME & STAY SAFE".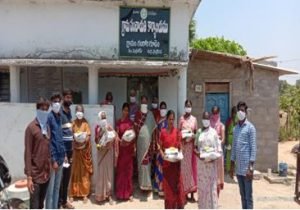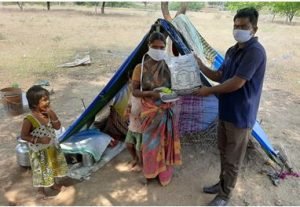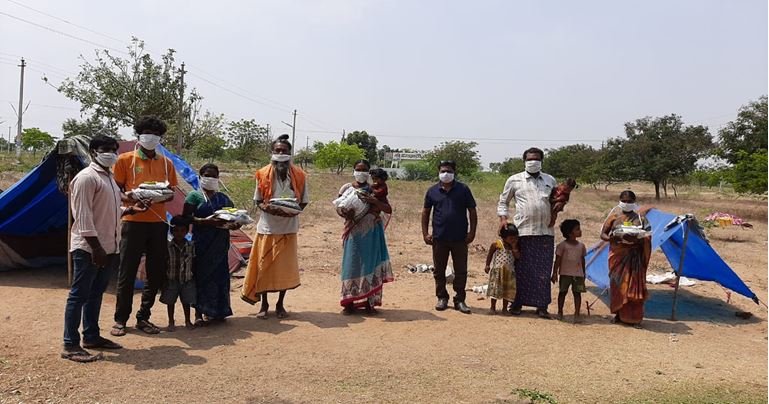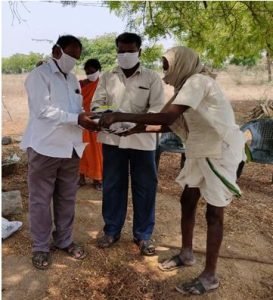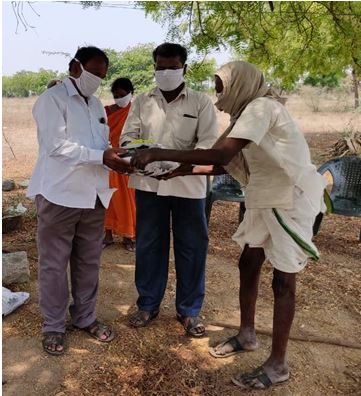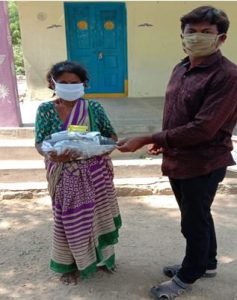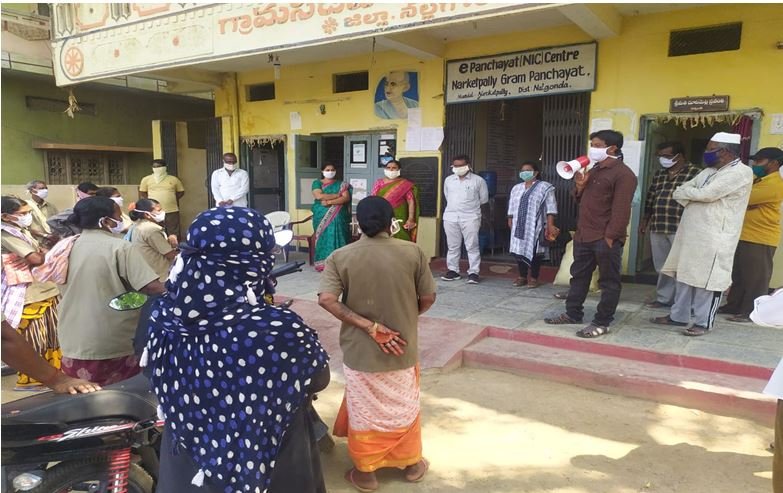 Tailoring Unit
To overcome this Pandemic, MTRDS Tailoring unit has Target of making 3000 face masks. MTRDS staff took care of pressing the masks. Our main aim is to promote the use of mask and also to make availability for poor and needy people in the society. This move has not only helped in protecting others but also created livelihood in the time of crisis.
Women Empowerment
MTRDS gave awareness and motivation to the women to form into self-help group to save some amount from their daily earnings with the concept of "Help them to Help themselves". The women came forward form into groups and started savings. They also using the amount in agriculture also establish in small processing units, shops etc….
Women played key role in maintaining their families by their small business activities such as petty shops, Ladies emporium, cattle raring, milk business, garments business, tailoring units etc…