Sudhakar Reddy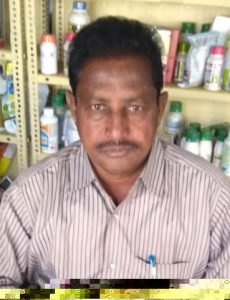 Sudhakar Reddy says, "We were hardly having any close association with anyone outside our homes. We knew each other but we never had any chance to meet and speak to each other. After Fr. Julian's initiation of Youth Groups we started meeting and having discussions on how we can improve our farming and make good returns. And not only that we learned a lot from one another. Thanks to YFRDS we grew successful in farming and earned rich profits. Thanks to the high quality seeds, thanks to the credits that are available to procure seeds, fertilizers, and pesticides we are able to use them and pay them later when we had money.
We also learned a lot about other investments apart from farming. We purchased houses in cities for our children. We learned about various colleges and courses to study. I educated my three daughter abroad. We had an education fund in the YFRDS and we could utilize that fund. I was able to send my children abroad.
There is an  emergency health fund which we give to the farmers in case of a sudden emergency as a help. It is not on loan or any interest. Since most of the farmers stop their education after some years, we ran a night school for farmers to learn new things.
We are respected a lot by other farmers for the service we provide through our society in supplying quality seeds and fertilizers. It was a big struggle in the beginning to form this society but we are so happy that it is bearing fruit. We have plans to take the society to the fullest potential. We want to put up market/outlets for farmers and others to sell and procure quality food grains in the rural area."